All you need to do is pick a date to get your friends and family together for your own Big Aussie Barbie. Whether you get together in person or go online, you'll raise awareness and funds that can save a life.
Your support is so important because over 17,000 Aussie men are diagnosed with prostate cancer every year. Every one of us is likely to know and love someone who's affected by this disease.
With your help, we can be there for every Aussie affected by a prostate cancer diagnosis.
Step 1

SIGN UP
Register your Big Aussie Barbie and you'll get full access to our website, with recipes, fundraising and planning tips, videos and more.
Step 2

SPREAD THE WORD
Pick a date. Invite your mates. Ask them to help support men and families impacted by prostate cancer.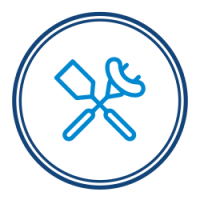 Step 3

GET GRILLING
Let your barbie begin! Share your page with friends and post your pics on social media with the hashtags #BigAussieBarbie #prostatecancer #pcfa.
Don't own a barbie? Host one of these instead!
PICNIC
Host a picnic with close friends or immediate family for an intimate opportunity to raise funds and talk about how you can save a life.
GET TOGETHER
Celebrate with your loved ones to raise funds and savour a conversation that could save a life.
MORNING TEA
Invite your colleagues to host a morning tea in, raise funds, have a coffee and chat about the importance of getting tested.
DINNER PARTY
Everyone loves a dinner party, why not raise funds by dressing up and hosting a virtual or in-person evening to remember.
A message from legendary cricketer Matt Hayden
YOUR DOLLARS MAKE A DIFFERENCE
When you host a Big Aussie Barbie, you'll raise crucial funds for life-saving research, awareness campaigns and support for men and families impacted by prostate cancer.
WHO WILL YOU GRILL FOR?
"Most people don't realise how widespread prostate cancer is. So we've got to get blokes out there talking. We've got to get individuals contributing. We've got to get organisations getting involved, because we can make a difference. We can help plenty of blokes live longer lives."
Tim Stollznow, PCFA state board member (SA/NT) and prostate cancer survivor.